90s Award-Winning movies that you shouldn't miss watching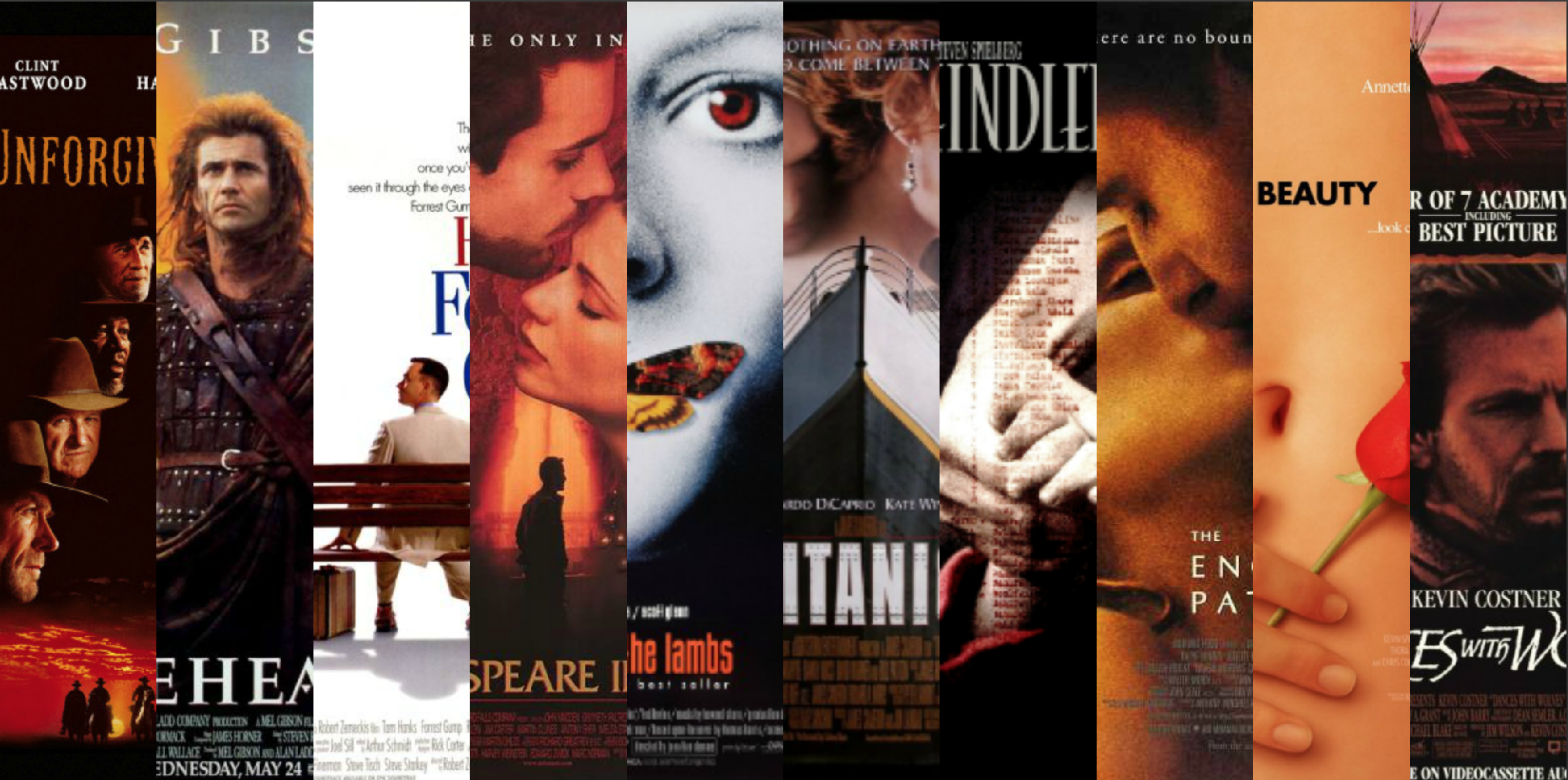 Every decade has its unique fingerprint when it comes to Hollywood. But we guess you could say that for everything. Nevertheless, the early days of motion pictures were the Golden Age. It was the time of classic directors, titles, and performances: Howard Hawks and Orson Welles, Ben-Hur and Casablanca, and Humphrey Bogart and Judy Garland.
The 1970s and 1980s were the times when La La Land was running on new blood — the New Hollywood movement. Its engines were famous directors like De Palma, Spielberg, Coppola, and Lucas. They would write and direct classic dramas, action, sci-fi, and horror, taking these genres to new heights.
The final years of the 20th-century were, however, a weird breed. Back then, blockbusters and mid-budget dramas would coexist in perfect harmony. It was a simpler age, regardless of whether you're into rose-colored glasses and nostalgia. These movies would win numerous awards by each other's side and for good reasons.
What Does It Take for Movies to Be Award-Winning?
Some movie cynics would argue that all you need nowadays to win an award is a drama about a minority and an inclusive cast. But it's not that simple. If it were, we wouldn't stop hearing about below-average European movies from the Balkans. You know the ones where it's all doom and gloom, without any artistry or balance.
But what does it take for a film to win an award? Well, it varies from one festival to another. Not all categories and rules are the same. However, we'll briefly explain what it's like at the Oscars — the Academy Awards. These are annual, meaning they are awarded every year. They are under the umbrella of the Academy of Motion Picture Arts and Sciences.

To be suitable for awards, a film needs to be in LA theaters for at least one week. This rule is for all films except the ones competing in the foreign-language film category. The country of their origin submits them. For documentaries and music, the rules are a bit different, and they involve producers and music artists themselves. But that's for another story.
For a film to become an award-winning one, it takes more than impressive CGI or an ensemble cast. They need good writing before anything. Hence, we should point out how movie audiences often overlook writers in favor of directors. Sure, directors are important, but they wouldn't have anything to shoot if it weren't for their pen-and-paper pals.
Titanic (1997)
Our list of Top-5 movies from the '90s begins with the third highest-grossing film of all time. 1997's Titanic is an epic romance flick that stars Leonardo DiCaprio and Kate Winslet and comes to us from the directorial eye of the legendary James Cameron. The same James Cameron who shook the world with his sci-fi classics — Aliens and Terminator.
The plot of Titanic is well-known. It's a fictional love story that takes place on the famous ship that sank in 1912. Onboard are Winslet's and DiCaprio's characters, and they fall in love despite their different backgrounds. He's a poor, inspiring artist, and she's a wealthy fiancé of the main bad guy — Billy Zane.
The synopsis is a bit cliché, we know, but it works. The whole cast is phenomenal in their roles, and the impending doom of the ship sinking keeps you on edge constantly. We won't spoil the end for you if you were living under the rock and don't know it. Instead, we'll just say that it will bring a tear or two into your eyes.
Schindler's List (1994)
The second film on this list is one of the most horrifying yet inspiring '90s movies. Steven Spielberg's Schindler's List is a story about Oskar Schindler, who saved thousands and thousands of Polish Jews during World War II. Played by Liam Neeson, Schindler employs Jews from the Warsaw Ghetto to work in his factory, where they are a tiny bit safer than inside the concentration camp run by the bloodthirsty Nazi — Amon Goeth.
Steven Spielberg is more than famous. His film legacy includes numerous classics that everyone knows and enjoys. However, this is probably his best film in terms of how potent and strong it is. The whole film is shot in black and white, except for one scene in which you can see a little girl wearing a red coat. It's bleak, sad, horrifying, but also full of hope in humanity. As such, it won seven Academy Awards and numerous other accolades.
The English Patient (1996)
Our third pick is another film in which Ralph Fiennes (he played the above-mentioned Amon Goeth). Anthony Minghella's romantic drama, The English Patient, is based on the eponymous novel but differs in the way its narrative is delivered.
Namely, Fiennes' almost fully burned character recalls his love affair. He tells his tale to the nurse and another man, who is suspicious of him for reasons unknown to the audience. The film has nine Academy Awards and is best viewed with a partner by your side.
Shakespeare in Love (1999)
Yet another film with the surname Fiennes in it, Shakespeare in Love is a 1999 romantic drama that stars Gwyneth Paltrow and Joseph Fiennes — Ralph's brother. The plot revolves around Shakespeare's fictional affair with Paltrow's character.
The film has seven Academy Awards, winning the best picture, actress, and screenplay, among others. Shakespeare in Love is a fun, romantic, and completely enjoyable film. It's for anyone and everyone, making it truly unique and well-worthy of all the accolades.
Braveheart (1995)
Our last '90s movie that you should watch if you, by some weird coincidence, haven't by now is the Mel-Gibson-produced Braveheart. This is a historical drama that doesn't have a problem with historical accuracy. But that's not an issue because the film is pure gold.
Braveheart tells the tale of William Wallace and his struggle against the English during Scotland's first uprising in the 13th century. The film is full of amazing set-pieces and big battles involving thousands of extras.
This Mel Gibson epic won five Academy Awards. Of those five, it won the best picture, sound, director, makeup, and cinematography. It was also a box office hit, grossing over $210 million worldwide.